BRANZ 六番町
December 1st, 2019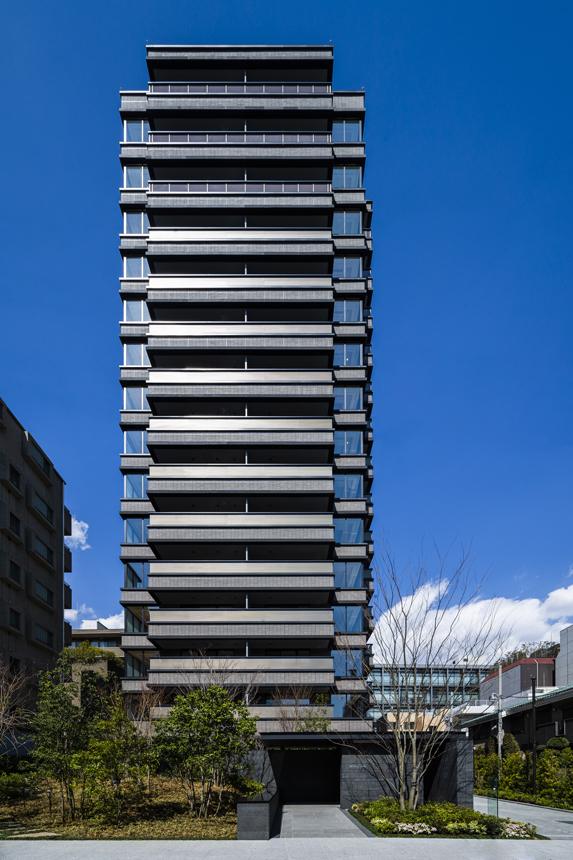 千代田区六番町に建つ分譲集合住宅。
六番町は日本有数の邸宅街であるが、近年ではオフィスや商業施設が混在し建物の高層高密化が進んでいる。本計画では、建物を高層化することによって、建物前面にかつてのお屋敷を彷彿させる大きな前庭を創出し、高密度な都市の中に緑豊かな空間を実現させた。
外観は水平な庇を重ねたような彫の深い表情とすることで、和の要素を用いつつ積層する美しさを表現し、六番町に相応しい高層住宅の佇まいをデザインした。
information:
竣工年:2019年 2月
所在地:東京都千代田区
用途:集合住宅
建築面積:585.72 ㎡
延床面積:6,392.96 ㎡
階数:地上15階
構造:RC造一部S造
media:
近代建築 2020/03
建築ジャーナル 東日本版 2020/01
award:
GOOD DESIGN AWARD 2019
(photograph)
SS東京 (1,3,4,5,6,7,8)
坂倉建築研究所 (2)


A Condominium complex built in Rokubancho, Tokyo.
Rokubancho is one of the most prestigious residential district in Japan whilst it has been increasing in the density and the heights of office and commercial buildings recently. A newly provided vast frontal garden, which is somehow reminiscent of an old mansion once stood there, creates a lush green space in the midst of a high-density city.
The facade of the building has a deeply sculpted appearance; As if the horizontal eaves were stacked on top of each other, it expresses the beauty of layering with using Japanese traditional elements and forms a high-rise residence appearance suitable for Rokubancho area.
information:
year: 2019/02
location: Tokyo, Japan
building type: Housing complex
BA: 585.72 m2
GFA: 6,392.96 m2
floor: 15F
structure: RC / S
media:
KINDAI KENCHIKU 2020/03
KENCHIKU JOURNAL (East Japan Edition) 2020/01
award:
GOOD DESIGN AWARD 2019
(photograph)
SS Tokyo (1,3,4,5,6,7,8)
Sakakura Associates (2)