大船渡災害公営住宅
May 31st, 2014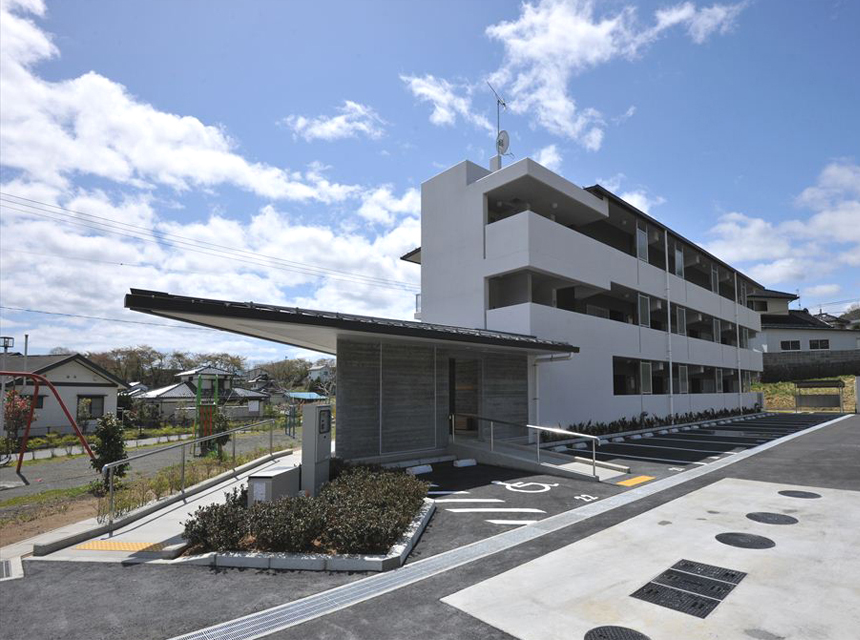 東日本大震災の被災者のための住宅。
UR都市機構が宇津野沢・平林の2地区まとめてプロポーザルを行い、設計者に選定された。
岩手県におけるUR災害公営住宅の第一号として、基準住戸プランの見直しや基本仕様の策定を行い、
以後の設計施工物件のためのプロトタイプを設計した。
2地区共に軒下空間のある共用玄関を設け、外部空間と一体となった居住者の交流の場を実現している。
information:
竣工年:2014年5月
所在地:岩手県 大船渡市
用途:災害公営住宅
建築面積:624 ㎡ (U)、370 ㎡ (T)
延床面積:1,436 ㎡ (U)、854 ㎡ (T)
階:地上3階
構造:RC造
協同設計:SOY source 建築設計事務所
U=宇津野沢地区(写真右4枚)
T=平林地区(写真左4枚)
Public restoration housings for people who lost their houses to the Great East Japan Earthquake in the form of a proposal for both Utsunosawa and Tairabayashi area by the Urban Renaissance Agency (UR).
As the first UR's disaster public housing project, the apartment buildings were designed by Sakakura Associates to be prototypes for the following development of recovery in Iwate through the process of revising their general plans and decisions on specifications.
The entrances were designed to be open to the outside, with notable eaves above, to let the residents have comfortable spaces to socialize with each other.
information:
year: 2014/5
location: Iwate, Japan
building type: Public Restoration Housing
BA : 624 sqm (U)、370 sqm (T)
GFA: 1,436 sqm (U)、854 sqm (T)
floor: 3F
structure: RC
collaboration: SOY source architects
U=Utunozawa
T=Tairabayashi