SH - パークサイドシックス
March 6th, 2009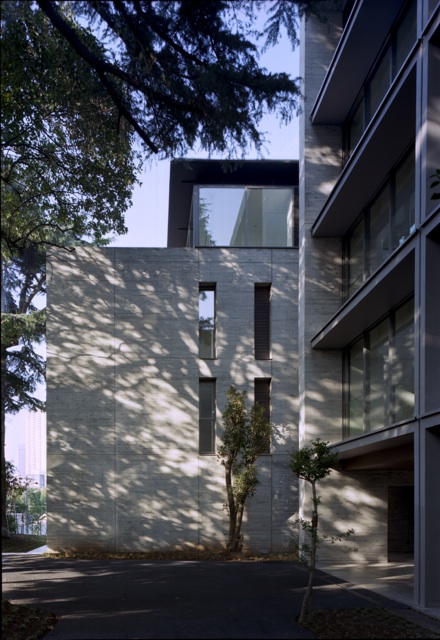 敷地は1940年に弊社創設者坂倉準三が事務所を開設した場所である。
当時からこの地に育つ20mを超す樹木5本を保存し、これを除けて3つのボリュームを雁行配置した。
陰影に富むシンプルな壁面は小幅板の型枠を使ったコンクリート打ち放し仕上げである。
information:
竣工年: 2009年
所在地: 東京都 港区
用途: 集合住宅/店舗
建築面積: 839㎡
延床面積: 4,115㎡
階: 地上5階、地下1階
構造: RC造一部S造
media:
新建築 2010/02
ディテール 190 2011/10
award:
平成23年度 港区景観街づくり賞
(photograph)
吉村行雄写真事務所


The site is the place where Junzo Sakakura, founder of Sakakura Associates, opened his office in 1940.
Five trees over 20m in height, which have been growing in this spot since then, were preserved.
Three volumes are arranged in a chevron configuration, avoiding the trees.
The simple walls are rich in shadows.
They were finished in exposed concrete using formwork with narrow width boards.
information:
year: 2009
location: Tokyo, Japan
building type: Apartment/Shop
BA: 839㎡
GFA: 4115㎡
floor: 5F/B1F
structure:RC/S
media:
SHINKENCHIKU 2010/02
DETAIL 190 2011/10
award:
Minato Urban Design Award 2011
(photograph)
Yoshimura Yukio Photography Office