シルクセンター国際貿易観光会館 / シルクホテル
October 10th, 1970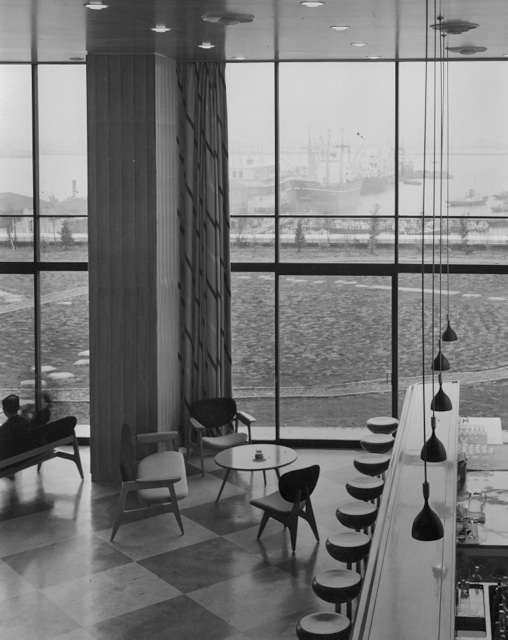 国際貿易の振興と観光事業の発展に寄与すべく、横浜開港百周年記念事業として横浜港の大桟橋近くに計画され、6社による指名コンペを経て実現した。
低層部にシルク博物館、オフィス等をまとめ、ホテル部分を低層部の人工庭園の上に配置している。
information:
竣工年: 1959年
所在地: 神奈川県 横浜市
用途:展示場/博物館/オフィス/ホテル
建築面積: -
延床面積: 24,878㎡
階: 地上8階、地下2階、塔屋3階
構造: RC造+SRC造
award:
指名設計競技(入選1957)
第1回 建築業協会賞(BCS賞) (1960)
神奈川県建築賞(1959)
照明普及賞(1960)
press:
新建築 1959/05
新建築 1957/09
国際建築 1959/05
建築文化 1959/05
生産と電気 1958/11
(photograph)
イースタン写真
A development near Osanbashi, the main international pier of Yokohama.
The development was planned to commemorate the 100th anniversary of the opening of the port of Yokohama, with the goals of contributing to international trade and tourism.
The proposal was selected after an invited competition between six architectural offices.
The low-rise section contains a silk museum and offices, while the hotel is located above an artificial garden in the low-rise section.
information:
year: 1959
location: Kanagawa, Japan
building type: Exhibition Hall/Museum/Office/Hotel
BA: ---
GFA: 24,878㎡
floor: 8F/B2F Penthouse3F
structure:RC+SRC
award:
1st Building Contractors Society Prize (1960)
Kanagawa Architecture Award (1959)
Lighting Installation Award (1960)
press:
SHINKENCHIKU 1959/05
SHINKENCHIKU 1957/09
KOKUSAI KENCHIKU The International review of architecture 1959/05
KENCHIKU BUNKA 1959/05
Production and electricity 1958/11
(photograph)
Eastern Photograph