TSI 新宿タワー
July 25th, 2018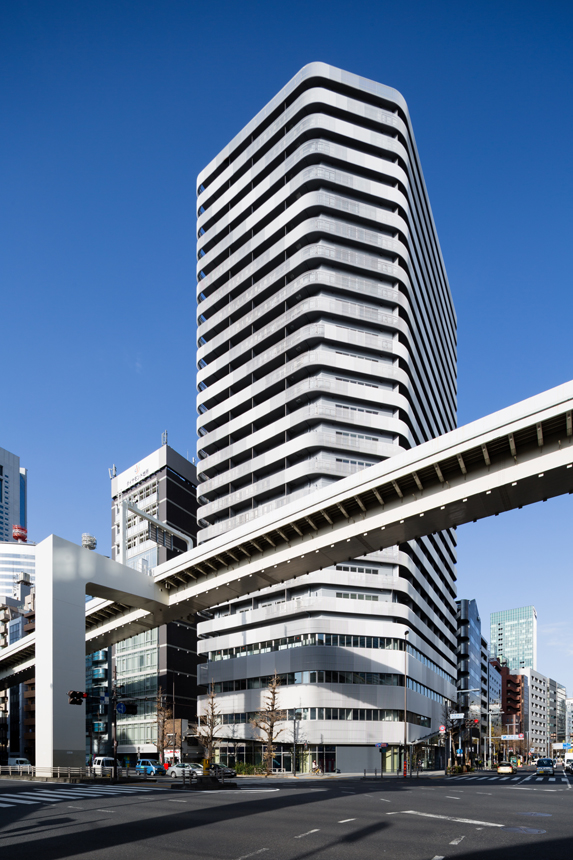 西新宿に位置する住居、貸しオフィス、商業施設からなる複合ビルの計画。
オーナーが服飾関係者であることから「衣」をコンセプトに外観デザインした。
アルミ縦ルーバー手すりの取り付け角度を変化させながら、建物全体を覆い、光の陰影で布の持つ繊細さと揺らぎを表現した。また足元をウイングで切って、中の機能がかいまみえることで、都市の中に華やかさを「衣」で演出した。 
information:
竣工年:2018年1月
所在地:東京都新宿区
用途:共同住宅 店舗 事務所 倉庫
建築面積: 1,468 ㎡
延床面積:21,310 ㎡
階数:地上24階 / 地下1階
構造:RC造 一部S造
設計・監理 : 積水ハウス 東日本特建支店
デザイン監修 : 坂倉建築研究所
(photograph)
SS東京


A mixed-use commercial complex including residential and commercial facilities located in among the skyscrapers of Shinjuku area.
The owner is in the apparel industry, which inspired the concept of "clothing" for the exterior.
The whole building was covered with multiple vertical slats with different mounting angles, and the delicacy and movement of fabrics were expressed by shadow or absence of light. By cutting the base area in a wing shape and offering a glimpse of the functions inside, the city's splendor was staged as "clothing".
information:
year: 2018/01
location: Tokyo, Japan
building type: Housing complex, Commercial, Shared office, storage
BA : 1,468 sqm
GFA: 17,000 sqm
floor: 24F / B1F
structure: RC / S
Design and construction supervision : Sekisui House, LTD. East Japan-Tokken Building Project Branch
Design supervision : Sakakura Associates
(photograph)
SS Tokyo