東京サレジオ学園 ドンボスコ記念聖堂
March 6th, 1988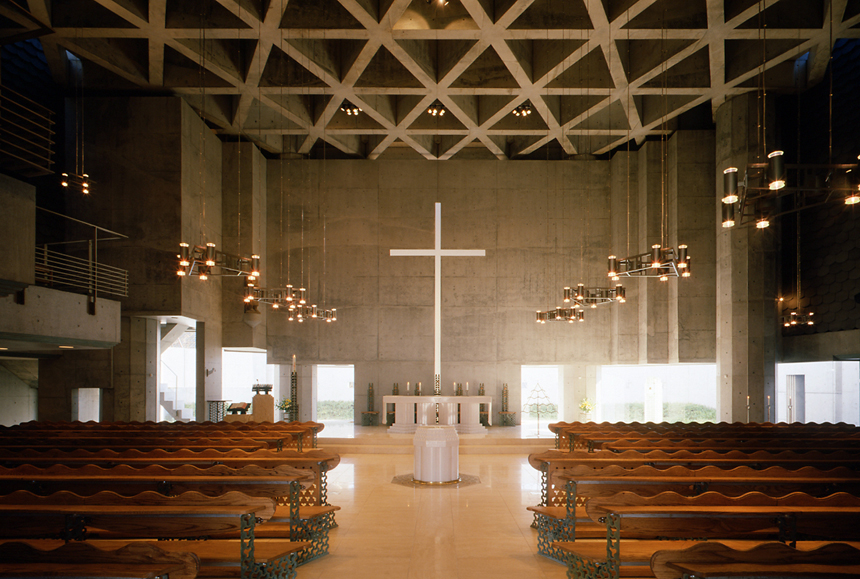 敗戦直後に誕生した戦災孤児の養護施設がこの学園の原点である。
広い敷地は畑や牧場として自給自足のために確保されたものである。
当初の施設が老朽化したため、施主の理想追求に応え、時間と労力を注ぎ込み、小規模建築群を4期にわたって建設。
ドンボスコ記念聖堂は芸術院賞他多くの建築賞を受賞。
information:
竣工年: 1988年
所在地: 東京都 小平市
用途: 教会
建築面積: ---
延床面積: 575㎡
階: 地上1~2階
構造: RC造
media:
新建築 1989/01
建築文化 1989/01
GA DOCUMENT 25 1990/04
SD 1989/05
建築雑誌 1989/12
建築設計資料 36 教会建築 - 建築資料研究社 1992/03
award:
日本芸術院賞
吉田五十八賞
村野藤吾賞(1989)
建築業協会賞(1990) 
>> *東京サレジオ学園(Ⅰ~Ⅳ期)
>> *東京サレジオ学園体育館 (1990)
(photograph)
新建築社写真部:1,3
川澄小林研二写真事務所:2,4,5,6
The roots of this home are a home for war orphans created immediately after the end of the Second World War.
The expansive site with fields and pastures was acquired for the purpose of supplying the home's own needs from its own resources.
The current facilities were built to replace the dilapidated original facilities.
Through the client's unselfish pursuit of an ideal and the investment of a great deal of time and effort, a group of small buildings was constructed in four phases. The Don Bosco Commemorative Chapel has won numerous architectural prizes.
information:
year: 1988
location: Tokyo, Japan
building type: Church
BA: -
GFA: 575㎡
floor: 1~2F
structure: RC
media:
SHINKENCHIKU 1989/01
KENCHIKU BUNKA 1989/01
SD 1989/05
KENCHIKU ZASSHI 1989/12
DATA FILE OF ARCHITECTURAL DESIGN & DETAIL 36 - Kenchiku Shiryo Kenkyusha 1992/03
award:
Japan Art Academy Award
Isoya Yoshida Award
Togo Murano Award Murano Memorial Foundation(1989)
Building Contractors Society Prize(1990) 
>> *Tokyo Salesian Boy's Home
>> *Tokyo Salesian Boy's Home Gymnasium (1990)
(photograph)
Shinkenchiku-sha Photo Department:1,3
Kawasumi Kenji Kobayashi Photo Office:2,4,5,6