国際花と緑の博覧会 中央ゲート・エンポーリアム
February 28th, 1989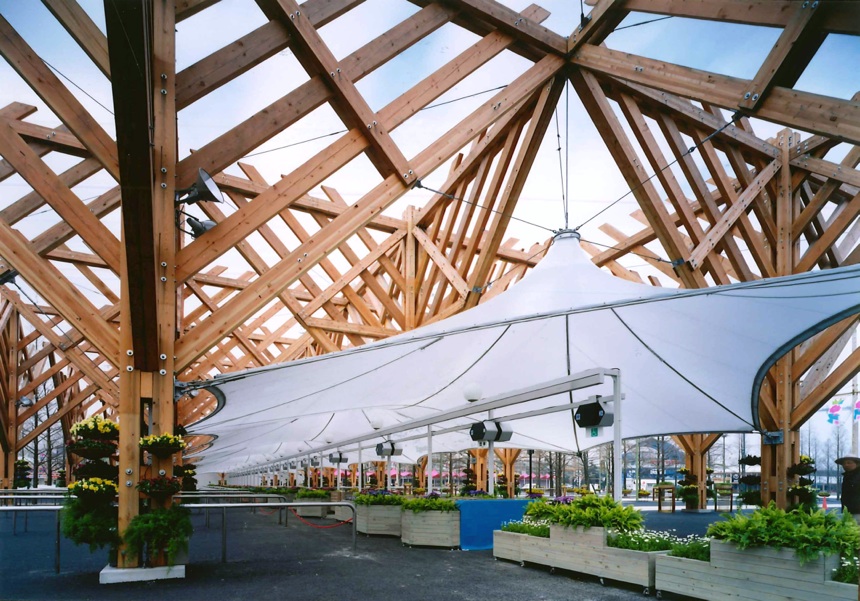 中央ゲートへの見通し確保のため、ゲートに至る大通りの並木が切られることとなり、その樹木をゲートとして再現した。
木の形を単純化した書割のようなデザインとし、木造により温かみと親しみやすさをもたせた。
information:
竣工年: 1989年
所在地: 大阪府 大阪市
用途: 博覧会ゲート
建築面積: ゲート: 950㎡ / エンポーリウム: 3,438㎡
延床面積: エンポーリアム: 3,612㎡
階: ゲート: 地上1階 / エンポーリアム: 地上2階
構造: ゲート: 木造 / エンポーリアム: S造
(photograph)
SS大阪

In order to secure a view toward the central gate, trees were cut down along the avenue leading to the gate.
The trees were re-enacted in the gate itself.
The gate has a simple tree-like shape resembling the wooden framework of a stage backdrop.
It brought the warmth and familiarity of wooden architecture to the EXPO.
information:
year: 1989
location: Osaka, Japan
building type: Exposition Gate
BA: Gate:950 sqm Emporium:3,438 sqm
GFA: Emporium:3,612 sqm
floor: Gate:1F Emporium:2F
structure: Gate: Timber + Emporium: S
(photograph)
SS Osaka