所沢市民体育館
February 28th, 2004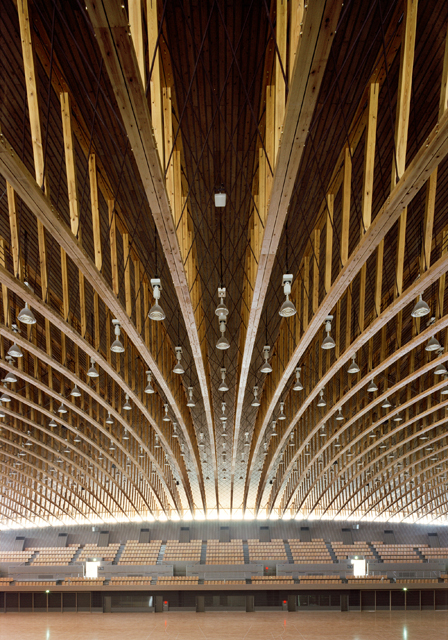 平成16年埼玉国体9人制バレーボール会場となった総合体育館。
秩父産の無垢の杉材をアリーナの屋根架構に使用。
国際大会から日常の市民利用まで柔らかく対応できる、明るくのびやかな空間を目指した。
information:
竣工年: 2004年
所在地: 埼玉県 所沢市
用途: 体育館
建築面積: 10,947㎡
延床面積: 14,692㎡
階: 地上3階、地下1階
構造: RC造、一部木造+S造
media:
新建築2004/09
GAJAPAN 70 2004/09-10
日経アーキテクチュア 2003/09/01号
近代建築 2004/12
ディテール 2005/01
ディテール 2004/10
award:
木質建築空間デザインコンテスト最優秀賞
木材活用コンクール最優秀賞(林野庁長官賞)
木の建築賞(ハイブリッドアーキテクチュア賞)
照明普及賞
優良木造施設農林水産大臣賞
グッドデザイン賞 2005
(photograph)
川澄・小林研二写真事務所
A municipal gymnasium built as the 9-player volleyball arena for the 2004 National Sports Festival hosted by Saitama Prefecture.
The roof of the arena uses solid sugi (Japanese cedar) wood from the Chichibu district of the prefecture.
The building is flexible enough to be used for everything from international sporting events to everyday citizen athletics.
The design aimed for a bright, unobstructed space.
information:
year: 2004
location: Saitama, Japan
building type: Gymnasium
BA: 10,947㎡
GFA: 14,692㎡
floor: 3F/B1F
structure: RC / Timber + S
media:
SHINKENCHIKU 2004/09
GAJAPAN 70 2004/09-10
NIKKEI ARCHITECTURE 2003/09/01
KINDAIKENCHIKU 2004/12
DETAIL 2005/01
DETAIL 2004/10
award:
Wooden Architecture Space Design Competition, First Prize
Practical Use of Wood Competition, First Prize/Hybrid Architecture Award
Lighting Installation Award
Excellent Wooden Building, Minister of Agriculture, Forestry and Fisheries Award
Good Design Award 2005
(photograph)
Kawasumi Kenji Kobayashi Photo Office