海岸2丁目計画 (カナルフロント芝浦)
May 5th, 2018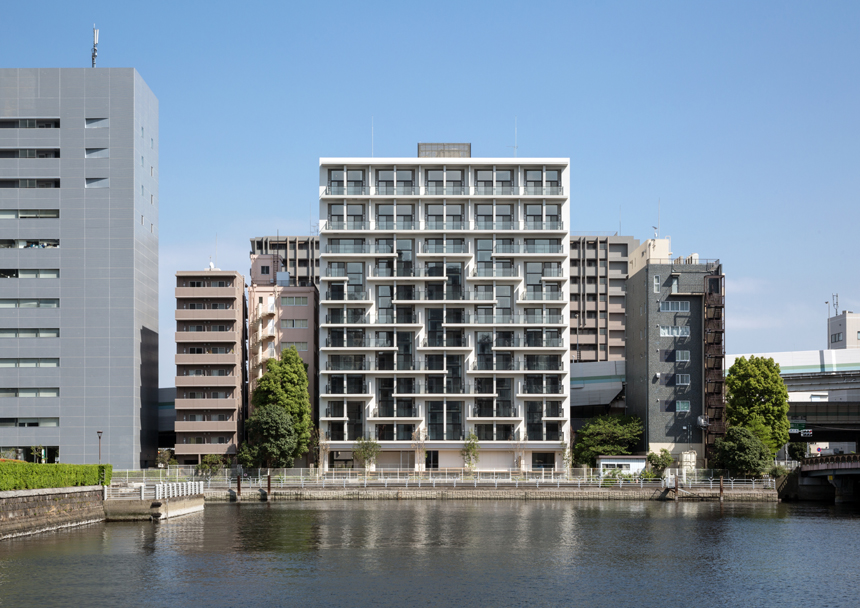 都心の運河に面した唯一無二の立地。
メゾネット住戸・ファミリータイプ住戸等のバリエーションを、単に階別に水平展開するのではなく、立体展開する。
運河対岸の引きの視線に対して「都心特有のとても小さな賃貸住戸の反復」を感じさせてしまうのではなく、立面の複雑性が住戸同士の境目を消失させるような効果を生み出す。
運河側の大梁を千鳥状に抜き、2層分のスケールのストラクチャーとした点が設計の最大の特徴である。
意匠と構造が統合された設計により、新たな水辺の景観とライフスタイルを実現する空間構築の、合理的なプロトタイプの提案を目指した。
information:
竣工年:2018年
所在地:東京都港区
用途:集合住宅
建築面積:459㎡
延床面積:4198㎡
階数:地上12階
構造:RC造
awards:
令和2年度 港区景観街づくり賞
グッドデザイン賞 2018
(photograph)
SS東京
A housing complex project on a rare location which faces a canal in the middle of Tokyo.
The intentional removal of girders on the canal side makes the most notable characteristic of this project and made it possible to integrate its design with the structure.
The habitats are not simply arranged in a monotonous manner, but instead, each of them fills the floors not only horizontally but also vertically to create a rather complex composition that almost as if to blur the boundary lines between the units and avoids to have a look of a repeating pattern of elements in its outward appearance.
This apartment building could be a prototype of a space composition of varied unit types for various residents and their lifestyles as well as being a new part of the waterside scenery.
information:
year: 2018
location: Tokyo, Japan
building type: housing complex
BA: 459 m2
GFA: 4198 m2
floor: 12F
structure: RC
awards:
Minato Urban Design Award 2020
GOOD DESIGN AWARD 2018
(photograph)
SS Tokyo