学校法人昌平学園 昌平中学校・高等学校
February 28th, 2011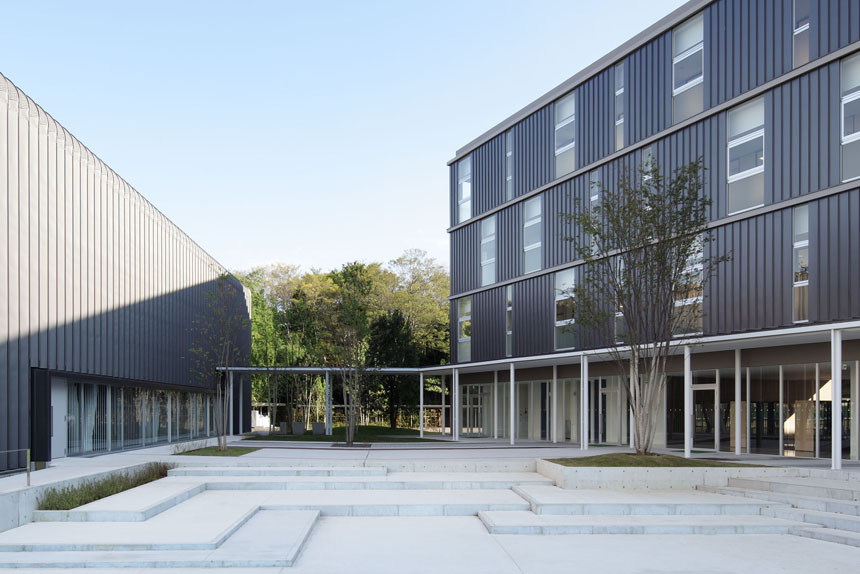 既存の中学校・高校の敷地の一部に新校舎を計画。
教室棟と体育館をV字に配置し、囲われた中庭がグラウンドに連続する構成。
また、外構は、既存校舎周りも含めた3つの庭を、連続するストライプの舗装パターンで再構成し、学校全体としての一体感を生んでいる。
information:
竣工年: 2011年
所在地: 埼玉県 北葛飾郡 杉戸町
用途: 中学校/高等学校
建築面積: :2,138㎡
延床面積: 3,725㎡
階: 地上4階
構造: S造+RC造
(photograph)
ナカサアンドパートナーズ
An addition of new buildings on the existing site of a junior and senior high school.
Classrooms and a gymnasium were arranged in a V configuration, creating a courtyard between them that continues onto the main school ground.
Courtyards, including three around existing buildings, were reconfigured with a striped paving pattern to create a continuous, unified feeling throughout the school.
information:
year:2011
location: Saitama, Japan
building type: Junior High School/High School
BA: 2,138㎡
GFA: 3,725㎡
floor: 4F
structure:S+RC
(photograph)
Nacasa & Partners