静岡文化芸術大学
February 28th, 2000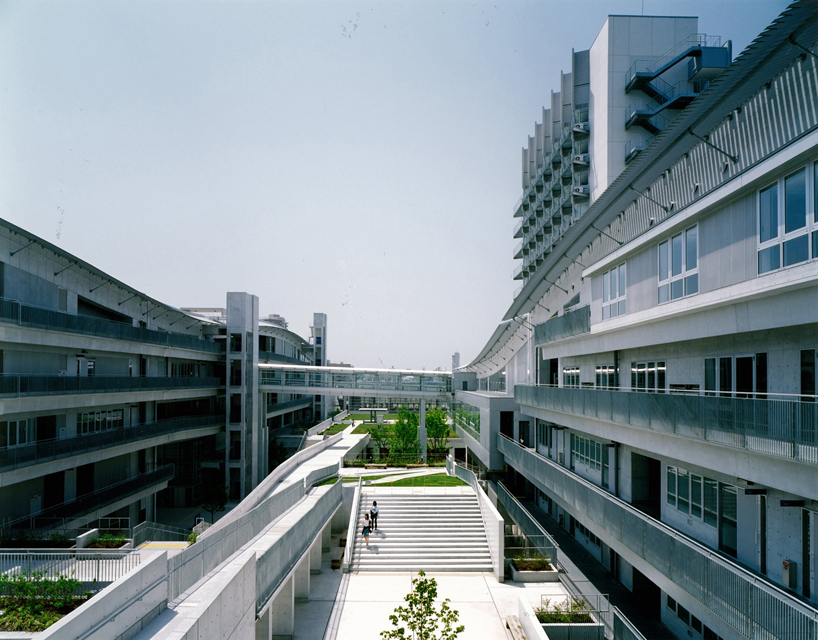 浜松駅前に建つ地元経済界が協力した都市型の公設民営4年制大学である。
高密度の施設を低層にまとめ、屋根のほとんどを緑化した「緑と共生する都市型大学」を目指した。
草原をイメージしたウエーブする「創造の丘」、「出会いの広場」等立体的に配置。
information:
竣工年: 2000年
所在地: 静岡県 浜松市
用途: 大学
建築面積: 17,396㎡
延床面積: 49,342㎡
階: 地上12階、地下1階、塔室1階
構造: SRC造+RC造+S造
award:
公共建築賞優秀賞
浜松市都市景観賞
(photograph)
SS名古屋
Located near Hamamatsu Station, this is a 4-year public university with a history of strong support from the local business community.
The design concept is an urban university that coexists with nature. Dense functions are concentrated in low-rise facilities and almost all roof space is covered with greenery.
The three-dimensional plan includes green elements such as the rooftop "Creativity Hill", in the image of rolling grassland, and the 2nd-level "Meeting Plaza".
information:
year: 2000
location: Shizuoka, Japan
building type: University
BA: 17,396㎡
GFA: 49,342㎡
floor: 12F/B1F Penthouse1F
structure:SRC+RC+S
award:
Public Buildings Award, Excellent Award
Hamamatu Urban Landscape Award
(photograph)
SS Nagoya