東洋レーヨン基礎研究所
November 3rd, 1970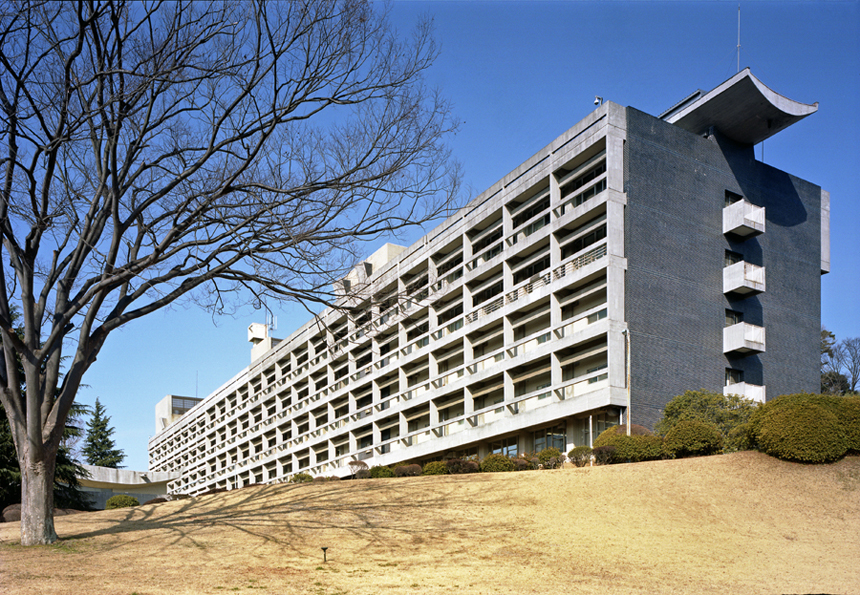 広大な敷地の高低差を活かして建物は敷地北側に配置され、南側に広がる緩やかな斜面からの見上げが研究所の景観を特徴づけている。
排気用ファンルームが屋上中央部に突出して配され、この屋根が妻側に長く延び、食堂の大きく反った屋根とともにスカイラインを形作っている。
information:
竣工年: 1962年
所在地: 神奈川県 鎌倉市
用途: 研究施設/独身寮
建築面積: ---
延床面積: 12,028㎡
階: 地上5階
構造: RC造
press:
新建築 1962/11
新建築 1964/06
JA 1963/04
建築文化 1962/11
近代建築 1962/11
建築 1962/11
ジャパン・インテリア JAPAN INTERIOR DESIGN no.3 1963/06
aujourd'hui: art et architecture 44 1964/01
(photograph)
吉村行雄写真事務所

Taking advantage of differences in elevation on the spacious site, the building is located on the north side to present a striking view when seen from the gently descending slope on the south side.
The fan rooms for exhaust ventilation rise up from the center of the roof.
The roof is extended on its short sides, and together with the upsweeping roof of the cafeteria is a prominent feature in the skyline.
information:
year: 1962
location: Kanagawa, Japan
building type: Research Institute/Dormitory
BA: -
GFA: 12,028 sqm
floor: 5F
structure: RC
press:
SHINKENCHIKU 1962/11
SHINKENCHIKU 1964/06
JA 1963/04
KENCHIKU BUNKA 1962/11
KINDAIKENCHIKU 1962/11
THE KENTIKU 1962/11
JAPAN INTERIOR DESIGN no.3 1963/06
aujourd'hui: art et architecture 44 1964/01
(photograph)
Yoshimura Yukio Photography Office