いすゞライネックス大平事務所
November 1st, 2012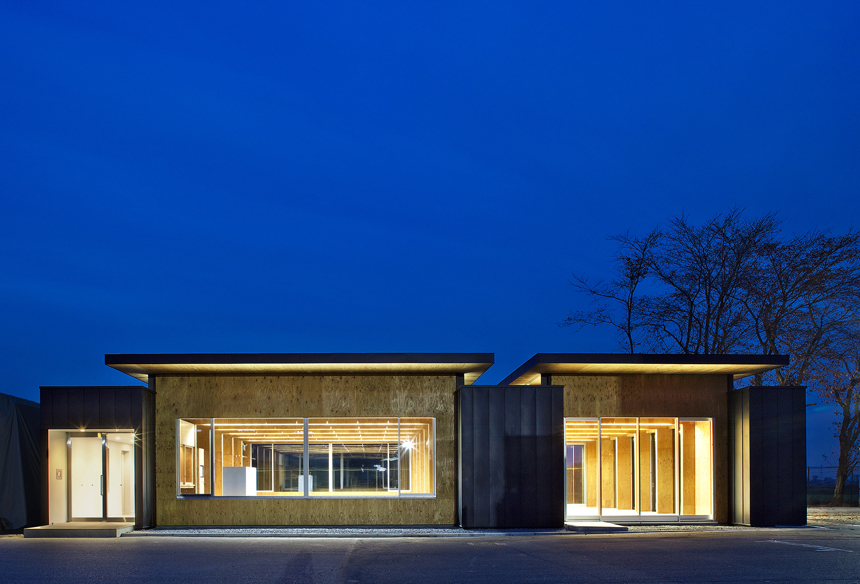 周辺の穏やかな環境に親和する木造建築で、事務所と休憩室からなる。
無垢材の架構に構造用合板をサンドイッチする形式とし、大スパンが必要となる事務室部分は1m成の梁型を形成する門型フレームにより、スパン8m、天井高4mの空間を構成した。
フレキシブルな事務室空間と木の暖かみを感じる休憩室の空間を両立している。
information:
竣工年: 2012年
所在地: 栃木県 栃木市
用途: 事務所
建築面積: 253㎡
延床面積: 231㎡
階: 地上1階
構造: 木造
(photograph)
川澄・小林研二写真事務所
The wooden architecture in which has resting room and office space according to the peaceful surrounding environment.
The form of structure is put the frame with using solid wood between the structural plywood.
The portal frame of the 1m beam configured the 8m of span, 4m of ceiling height for office which required a large span.
The construction combines the space of resting room to feel the warmth of wood and office space flexible.
information:
year: 2012
location: Tochigi, Japan
building type: Office
BA: 253 sqm
GFA: 231 sqm
floor: 1F
structure: Timber
(photograph)
Kawasumi Kenji Kobayashi Photo Office