葉山のゲストハウス
March 6th, 2009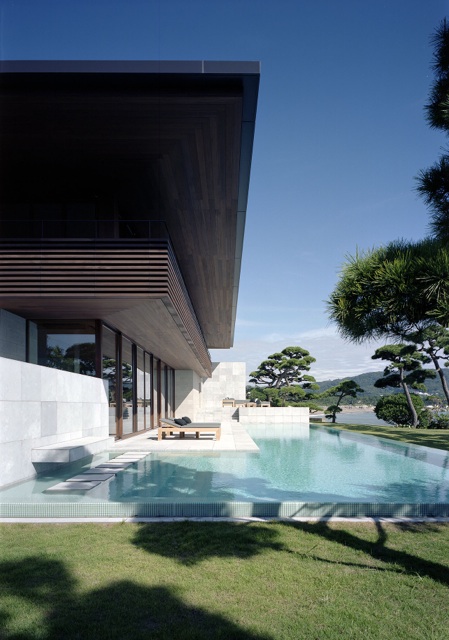 海に直接面する稀有なロケーションにあって、緩やかな段差、内外連続する仕上げ、テラスまで覆う大屋根という要素が空間の境界を曖昧にし、その豊かな外部環境を内部まで引き込でいる。
建物は存在感のある石壁と軽快な木の表現により対比的に構成されている。
information:
竣工年: 2009年
所在地: 神奈川県 三浦郡葉山町
用途: ゲストハウス
建築面積: 504㎡
延床面積: 738㎡
階: 地上2階、地下1階
構造: RC造一部S造
media:
新建築 2009/10
GOETHE 2019/12
(photograph)
吉村行雄写真事務所
For an extraordinary location facing the sea, the design proposes gentle differences in height and continuity between interior and exterior, with a large roof that extends to cover the terrace.
This blurs the boundary between inside and outside and brings the rich external environment into the interior.
The building is characterized by the contrast between light wood and stone with a strong sense of presence.
information:
year: 2009
location: Kanagawa, Japan
building type: Guest House
BA: 504㎡
GFA: 738㎡
floor: 2F/B1F
structure: RC/S
media:
SHINKENCHIKU 2009/10
GOETHE 2019/12
(photograph)
Yoshimura Yukio Photography Office