軽井沢A邸
July 1st, 2017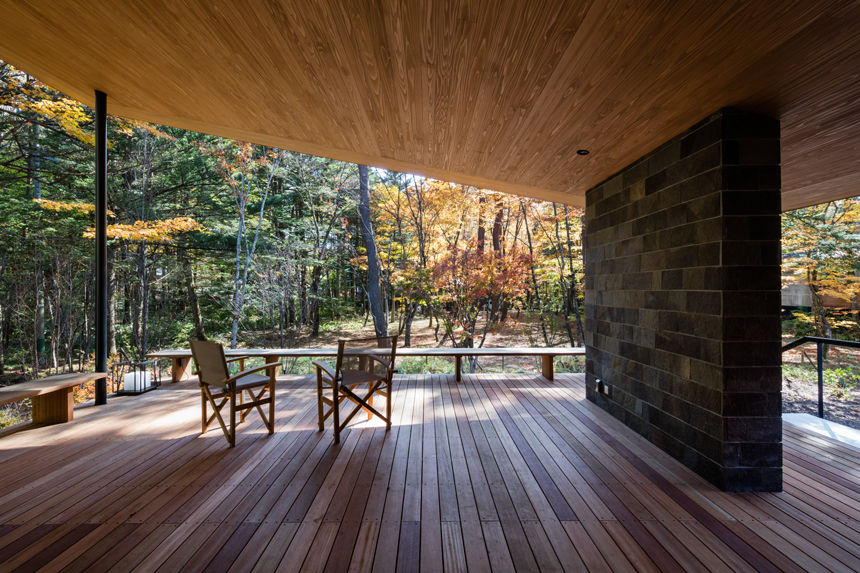 木立ちの中の平屋建て別荘。
コの字型の平面計画とし、リビングと寝室を東西に分け、その間に中庭を配置した。
連続する大屋根の軒が周囲の高木へ向けて伸び、ヒューマンスケールと環境スケールを緩やかに繋いでいる。
information:
竣工年:2017年7月
所在地:長野県 北佐久郡
用途:個人住宅
建築面積:346㎡
延床面積:268㎡
階数:地上1階
構造:木造
press:
モダンリビング No.242 2019/01
(photograph)
小川重雄
A one-story weekend house surrounded by trees.
Its U-shaped plan is composed of a living room wing, a bedroom wing and a courtyard between them.
The roof extends, rising with a reasonable incline, toward the highness of pines and firs so that it intervenes between the scale of humans and of trees to achieve a living space which sits harmoniously in the scenery.
information:
year: 2017/7
location: Nagano, Japan
building type: Private Residence
BA: 346 sqm
GFA: 268 sqm
floor: 1F
structure: Timber
press:
MODERN LIVING No.242 2019/01
(photograph)
Shigeo Ogawa