JR長野駅 善光寺口
March 1st, 2015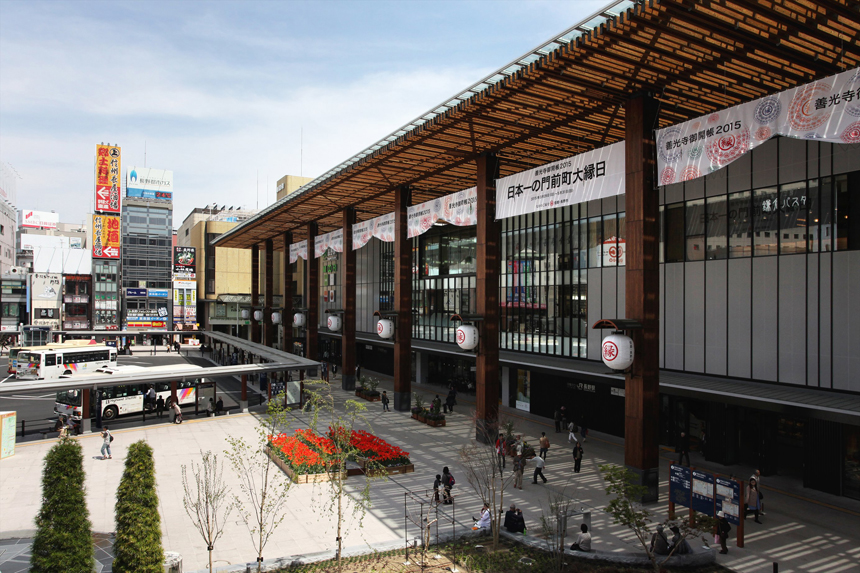 北陸新幹線延伸に合わせたJR長野駅の再開発計画。
駅全体の再開発コンセプト、駅ビルのファサード及びコンコースのデザインを担当した。
地場産の杉材による全幅140mの大庇、列柱を計画、善光寺を有する都市、長野らしさを表現するとともに、さまざまなイベントと連動し、時節に応じて装いを変えるファサードを実現した。
また、駅を長野の街づくりの拠点と位置づけ、善光寺参道の起点として、駅の再開発が門前町長野の街全体の賑わいにつながることを意図した。
民間所有の駅ビルと公共所有の大庇を一体的に整備する試みは、先進的な事例として特筆すべきものとなっている。
information:
竣工年:2015年3月
所在地:長野県 長野市
用途:駅舎
建築面積:-㎡
延床面積:10,351㎡
階:地上4階
構造:S造
awards:
平成29年度 都市景観大賞 都市空間部門 大賞 (「都市景観の日」実行委員会 国土交通省 後援)
平成27年度 第28回 長野市景観賞
media:
近代建築 2015/08
a+u 2019/07
(photograph)
坂倉建築研究所
Redevelopment of JR Nagano station to meet the demand urged by the extension of the Hokuriku shinkansen railway line.
Sakakura Associates took charge of the overall theme of the redevelopment for the whole station, the facade of the station building and the design of its concourses.
Giving the station a role of the center of vitalizations for the local area, the renewal was planned to conduces a great prosperity on the temple town as the starting point of the approach to Zenkoji temple.
An eave of 140m in length and a series of columns, both are made of cedar which is a local specialty of Nagano, create the characteristic facade which gets decorated differently on seasonal occasions and depicts the Nagano's local tradition. Additionally, it is a remarkable example of co-owning one large eave between a public facility and a private company.
information:
year: 2015/3
location: nagano, Japan
building type: Station Building
BA: - sqm
GFA: 10,351 sqm
floor: 4F
structure: S
awards:
The Townscape Award 2017 Urban space category:First Prize
( Ministry of Land, Infrastructure, Transport and Tourism )
28th Ngano City Urban Landscape Award 2015
media:
KINDAI KENCHIKU 2015/08
a+u 2019/07
(photograph)
Sakakura Associates