プラチナホーム有馬・プラチナコミュニティ有馬
December 30th, 2018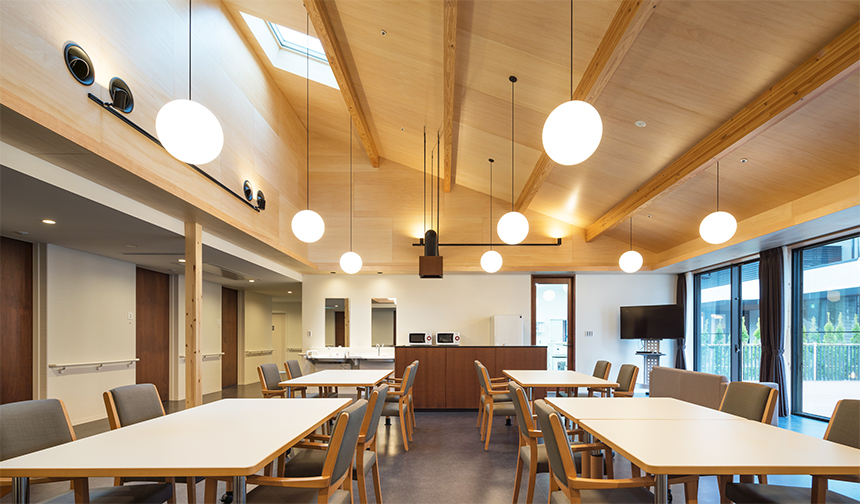 グループホーム、デイサービス、ショートステイ、訪問看護など様々な地域の介護ニーズに対応する高齢者福祉施設である。
建物は鉄骨造3階建て(A棟)と木造平屋(B棟)に分かれており、中庭を挟み2棟の居間・食堂が向かい合う配置計画とすることで、中庭を中心とした明るく開放的な空間が広がる。
鉄骨造A棟の居間・食堂は天井を貼らずにデッキスラブを現しとすることで、開放的な高天井の空間とした。木造B棟は、内装制限緩和による木構造現しとし、木の温かみを感じられる明るい空間とした。
information:
竣工年:2018年11月
所在地:神奈川県川崎市
用途:グループホーム、小規模多機能型居宅介護、看護小規模多機能型居宅介護
建築面積:A棟 428.85㎡ / B棟 376.71㎡
延床面積:A棟 982.26㎡ / B棟 338.69㎡
階数:A棟 3階 / B棟 1階
構造:A棟 鉄骨造 / B棟 木造
media:
建築ジャーナル 東日本版 2019/03
(photograph)
IT イメージング
This nursing home was designed to work as a welfare facility for elderly which could meet demands for elderly cares in various ways such as a group home, short-time nursing services and a home-nursing station.
The facility consists of a three-story building with a steel structure (building A), a single-story wooden building (building B) and a courtyard between the two buildings to achieve one large half-outdoor space with their living spaces and dining rooms facing each others'.
Building A makes it possible to obtain a high ceiling by disuse of ceiling materials along with a bare steel deck while building B features the warmth of wood to form a cheerful space with visible wooden frameworks.
information:
year: 2018/11
location: Kanagawa, Japan
building type: a group home, short-time nursing services , a home-nursing station
BA: building_A 428.85m2 / building_B 376.71m2
GFA: building_A 982.26m2 / building_B 338.69m2
floor: building_A 3F / building_B 1F
structure: building_A steel / building_B timber
media:
KENCHIKU JOURNAL (East Japan Edition) 2019/03
(photograph)
IT IMAGING