聖イグナチオ教会
March 6th, 1999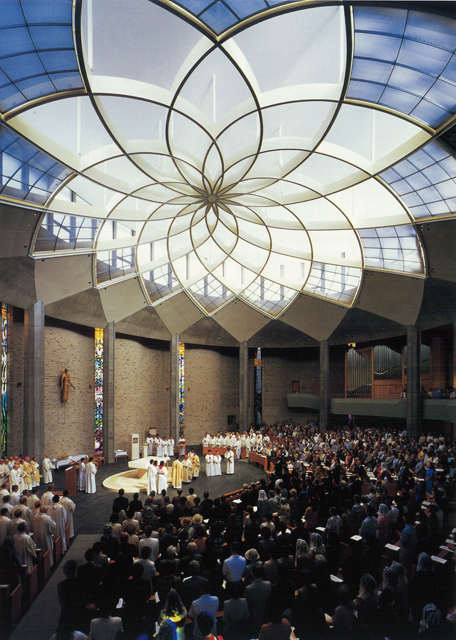 木造教会堂建替えの指名設計競技にて選定された。
現行ミサに適合する最大1000人規模のミサができる大聖堂、旧聖堂のステンドガラスを象徴的に残した中聖堂、日本人が祈れる空間を和のデザインに求めた小聖堂、地下聖堂、信徒会館で構成され、敷地の緑や空に開く配置計画となっている。
information:
竣工年: 1999年
所在地: 東京都 千代田区
用途: 教会
建築面積: 6,061㎡
延床面積: 7,333㎡
階: 地上4階、地下1階
構造: RC造、一部S造
award:
建築業協会賞(2001)
(photograph)
新建築社写真部:1/SS東京:2-6
Reconstruction of a previous wooden church, according to the winning proposal in an invited competition.
Chapels include the large Main Chapel, which accommodates about 1,000 worshippers for Mass, a smaller chapel with a stained glass window from the original church, a chapel with a Japanese design for Japanese worshippers, and a Crypt below the Main Chapel.
There is also a parishioners' building. The buildings are open to the sky and greenery of the site.
information:
year: 1999
location: Tokyo, Japan
building type: Church
BA: 6,061㎡
GFA: 7,333㎡
floor:4F/B1F
structure: RC/S
award:
Building Contractors Society Prize(2001)
(photograph)
Shinkentiku-sha Photo Department:1/SS Tokyo:2-6