日立シビックセンター
February 28th, 1990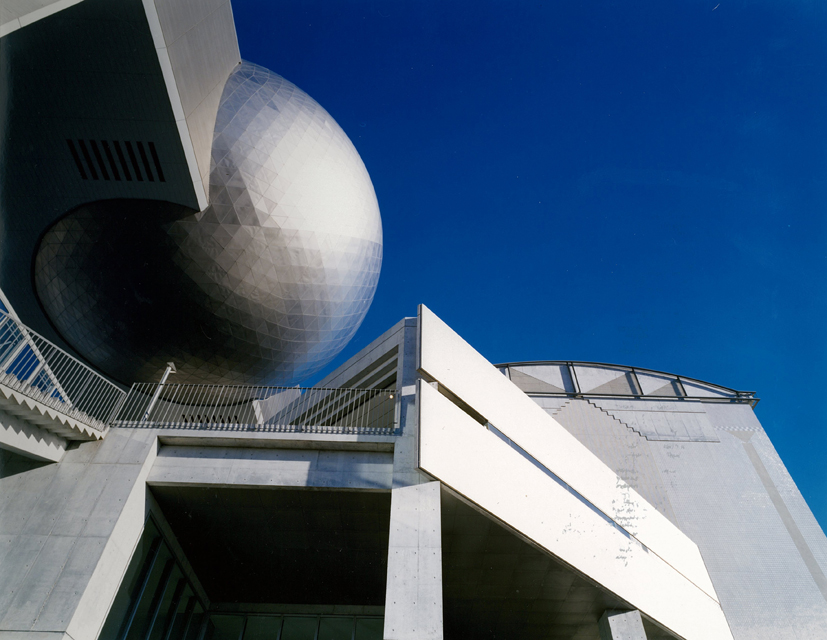 市の7つのセクションが固有の機能を果たしながら一体的に運営されている複合施設である。
アトリウムは都市の交差点と位置づけ、それぞれの機能の存在とそこへのアクセスが視覚的に確認出来る造り方とし、未来の立体都市空間を啓示している。
information:
竣工年: 1990年
所在地: 茨城県 日立市
用途: 展示館/音楽ホール/図書館/公民館/
社会福祉事務所/多用途ホール/天球劇場/市民情報センター他
建築面積: 4,671㎡
延床面積: 24,212㎡
階: 地上10階、地下1階
構造: SRC造+S造
award:
建築業協会賞 1992
電気設備学会賞
press:
新建築 1991/04
JA: The Japan Architect #5 1992/03
建築文化 1991/04
近代建築 1992/04
GA DOCUMENT 20 1988/06
ディテール 107 1991/01
建築設計資料 43 図書館2 - 建築資料研究社 1993/09
(photograph)
SSグループ:1-3,5/不詳:4
Seven departments of the Hitachi City government are housed in an integrated facility that allows them to perform their individual functions while benefitting from integrated management.
The atrium is positioned as an urban intersection where the various functions are visible and accessible.
It suggests a model for the three-dimensional urban space of the future.
information:
year: 1990
location: Ibaraki, Japan
building type: Exhibition Hall/Concert Hall/Library/City Hall/Office/Planetarium/Information Center
BA: 4,671㎡
GFA: 24,212㎡
floor: 10F/B1F
structure:SRC+S
award:
Building Contractors Society Prize 1992
Institution of Electrical Installation Award
press:
SHINKENCHIKU 1991/04
JA: The Japan Architect #5 1992/03
KENCHIKU BUNKA 1991/04
KINDAIKENCHIKU 1992/04
GA DOCUMENT 20 1988/06
DETAIL 107 1991/01
DATA FILE OF ARCHITECTURAL DESIGN & DETAIL 43 Library2 - Kenchiku Shiryo Kenkyusha 1993/09
(photograph)
SS Group:1-3,5/Unknown:4