アイランドシティ 照葉テラス フォレストカーサ
July 22nd, 2016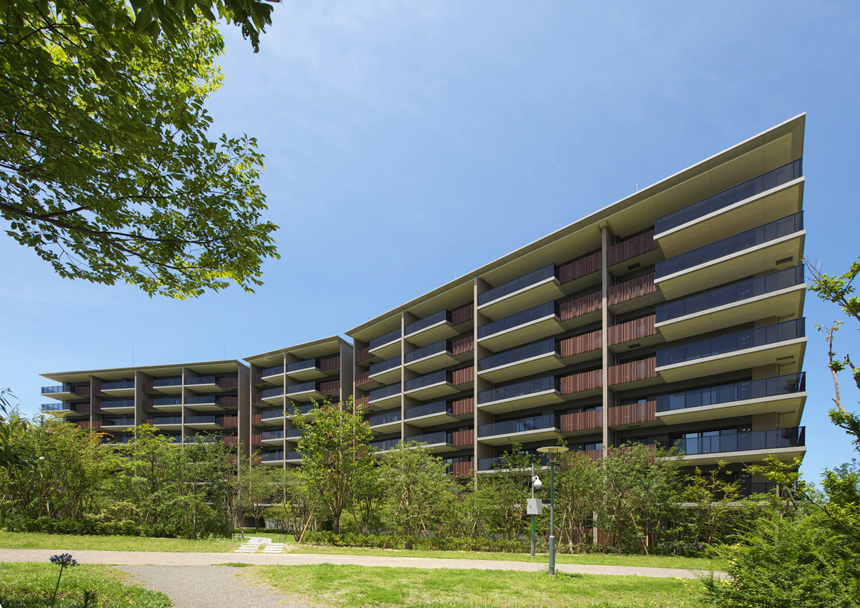 敷地は、人口島である福岡アイランドシティ。
南側の緑地を囲むように配置された分譲集合住宅であり、最上階の大きな庇、奥行3mのバルコニーは、陰影のある、彫りの深い表情を生みだしている。
人工木による縦桟手摺は、部材向きをランダムとすることで、シンプルな構成のファサードとしながら、単調な表情とならない工夫をしている。
エントランスは木を基調とした落ち着いた空間とし、水盤を渡り、緑へと続くシークエンスを計画している。
information:
竣工年:2016年7月
所在地:福岡県福岡市
用途:集合住宅
建築面積:1450㎡
延床面積:8720㎡
階:地上8階
構造:RC造
collaboration:
醇建築まちづくり研究所
メイ建築研究所
press:
新建築 2018/11別冊 "臨海住宅地の誕生 - 福岡市のシーサイドももちとアイランドシティを通じて考える"
awards:
第11回建築九州賞 奨励作品
(photograph)
ハシモト写真
The site is a part of an artificial island, Fukuoka island-city.
The housing complex, sited to surround a green space in the south part of the site, owns an exterior design profitably textured with lights and shadows rendered by its broad overhanging eaves and balconies of 3m depth.
The sequence of handrails with randomly arranged vertical frames, finished with artificial wood, executes a simple but notable façade. The entrance space decorated with wood relates with the pathway across a basin to the verdant foliage.
information:
year: 2016/7
location: Fukuoka, Japan
building type: Condominium
BA: 1450㎡
GFA: 8720㎡
floor: 8F
structure: RC
collaboration:
JUN Architectural Regional Planning Consultants 
M.A.Y.ARCHITECTS OFFICE
press:
SHINKENCHIKU 2018/11 Extra issue "The Birth of Seaside Residential Area"
awards:
Encouragement Award in the 11th Kenchiku-Kyushu Award
(photograph)
Hashimoto Photograph